November 18, 2008 - L4D Team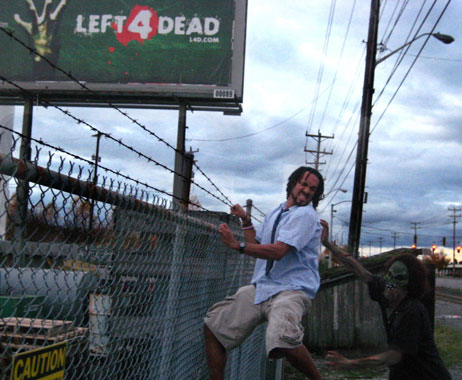 Our
"Dude, Where's My Thumb?" contest
finishes today. We asked hopefuls in the US and UK to submit a picture of themselves in front of a Left 4 Dead billboard for a chance to win prizes. Gabe Newell's looked through all the entries and selected 25 lucky winners, who can watch out for a free copy of Left 4 Dead heading their way. And a big congratulations goes out to our first place winner, Aren Roberson, who's getting a new gaming PC from AMD for his awesome entry (above).
Thanks to the
Left 4 Dead Four Pack
, you can play L4D the way it was meant to be played—with friends—at a big discount. Buy four copies of L4D for only $149.99. Click the link for more info on this great deal.
As our first day of release comes to a close, early reviews from the gaming press are starting to appear. Click
here
to read how we did.