October 19, 2012 - L4D Team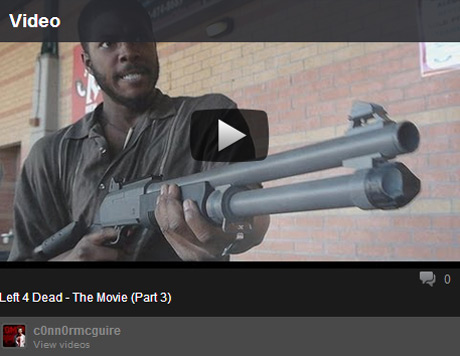 The Left 4 Dead community has created a wealth of movies. They range from a simple collection of Nick's profanity, to animated shorts, to full feature films.
Previously we would have to hunt around on Youtube to find all the movies but now with the new
Steam Game Hubs
, we can find all the movies in one place. To help us have all the movies in one place – if you created a movie for the L4D world - add it to the
L4D2 Game Hub
(We don't have a way to attach the movies to a franchise so we are using L4D2 which incorporates both games). To do that, click on the "Videos" link on your profile page and associate your Youtube account with your Steam Id and then select the L4D themed movies from your channel and attach them to the L4D2 channel.
Everyone can let us know about missing movies
in this thread
. Plus visit the
video tab
in the Game Hub to rate and discuss the videos.
With so many movies, we are thinking we should have a movie night of sorts closer to Halloween. Get together, talk about the movies, talk with the creators, discuss all things zombies, and end the night with some good old fashioned zombie killing…

October 17, 2012 - L4D Team
The Left 4 Dead 2 Workshop is getting close but before we unleash it on everyone, we first need to do some testing with outside contributors in a closed beta. This way we can make sure the Workshop works for add-on authors and they can see how best to interact with the Workshop.
Most content packages will simply work but in a few cases the user experience can be improved by the content package author.
An example change we have seen is the need to break apart model packs to avoid conflicts. If your Survivor model pack has all 4 characters it will conflict with other packs and individual models. For example, this would mean if you download the Minecraft character pack but then want to include Vacation Zoey – there would be a conflict over which version of Zoey should be shown.
This conflict exists now as well, but with the Workshop content creators can include the four individual models as a collection so people can choose to download or activate all four or each individually. We have also added conflict reporting to the interface so people are aware of any conflicts with the various addons they are subscribed to.
We will start the process for adding people to the beta next week.
This week we are looking to feature a new community campaign. If you haven't already, let us know what campaign should be featured by posting in
this thread
.
Today we have an update preparing for the workshop and fixing various bugs. You can read the
full release notes here
.
Bonus zombies today! Are you getting too tired to chase zombies by foot? Want to drive over them instead? Zombie Driver HD is being released today and has a little L4D Easter egg… the L4D Crash Course Rescue Van!
Check it out here
.

October 4, 2012 - L4D Team
With today's update and Steam's Beta update we should have all of the "error 55" issues resolved. If you are in the Steam Beta program, make sure to accept the update to the beta today as that was causing a conflict.
When we had the issue with "Remove plug-ins" many players added "-insecure" to their command line. After we resolved the issue, if you still had "-insecure" in your command line it would continue to give you the "Remove plug-ins" error. We have updated this error text to give you the correct information. If you get an error that you are trying to connect to a secure server in an insecure manner remove –insecure from your command line launch options.
You can view the
complete release notes here
.

September 20, 2012 - L4D Team
The Steam Workshop website will allow you to browse, rate, and discuss thousands of community created add-ons and even install them directly to your game with just one click of the mouse. We are also going to try an experiment with the L4D2 Workshop that will allow content to appear in the L4D2 world even more seamlessly based on the community's response.
To compliment the new access to maps, weapons, and items, we are also creating an expanded scripting tool to allow deeper and more varied experiences inside of Left 4 Dead 2. Similar to the current Mutations, these experiences can be laid on top of existing maps or included with brand new maps. These new style Mutations will also be available from the Steam Workshop.
All of this will also be available not just on the PC and Mac, but also for Linux users as well starting in the middle of next month and rolling out from there. We will have more details as we get closer to launch.
This week the featured Mutation is also changing:

Follow the Liter
Scavenge one can at a time.
No more fighting over what cans to grab first. This Mutation spawns only one group of cans at a time, so survivors know exactly where to go. There is only one problem: the Infected know exactly where they are going.
This presents a different strategy from regular Scavenge mode and actually tips match in favor of the Infected.

August 17, 2012 - L4D Team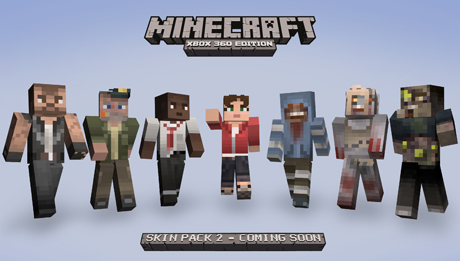 Left 4 Dead is going on a road trip this summer. If you missed
the announcement
, some of our common zombies made their way over to Counter-Strike: Global Offensive for the Zombie Mod.
The guys over at Mojang and 4J Studios have seven L4D themed skins ready for their aptly titled Skin Pack 2 for the XBLA version of Minecraft. The pack contains 45 skins in total and will be available later this month.
While you should normally let sleeping dogs lie, in this case, if you want to sport a Midnight Rider's Shirt or Ellis's Bullshifter shirt in another game – wake up and buy them in the new game - Sleeping Dogs -
available now on Steam
.
And lastly, while the Saxxy awards are hosted by Team Fortress, don't forget you can submit any SFM created movie for an award. With the L4D2 characters available to use in the SFM, we would love to see a L4D themed movie take one of the top spots. So stop by the
Saxxy Awards page
to get the details and start filming.