October 26, 2012 - L4D Team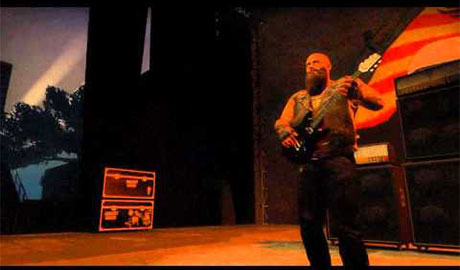 Three years after release, Left 4 Dead 2 is a massive game containing 13 Official Campaigns, 8 Game Modes and countless user created Campaigns and Mutations. It's a lot to soak in over just one weekend so here is a breakdown of what's included.
The original Left 4 Dead 2 campaigns take the four survivors, Coach, Nick, Ellis, and Rochelle from Savannah to possible safety in New Orleans. These campaigns are: Dead Center, Dark Carnival, Swamp Fever, Hard Rain, and The Parish. The Passing is an additional campaign fitting between Dead Center and Dark Carnival that introduces the L4D2 survivors to the gang from L4D1. Cold Stream is a non-cannon community campaign released as an official campaign.
With the release of Cold Stream, L4D2 now also includes the L4D1 campaigns which follow Bill, Zoey, Francis, and Louis through No Mercy, Crash Course, Death Toll, Dead Air, Blood Harvest, and the Sacrifice. The comic "The Sacrifice" takes place after Blood Harvest and through The Sacrifice campaign and beyond.
We suggest new players start with Campaign mode. This is a co-operative mode that pits four humans against the zombie apocalypse. Realism is a play on Campaign mode where some of the player aids are removed and difficulty heightened. Single player mode is campaign mode with computer AI companions instead of humans.
Versus is the main the competitive mode that pits human Survivors against the human controlled Special Infected. Players take turns playing each side as they go through the campaigns. Realism Versus removes aids for the Survivors.
Scavenge mode is a round based competitive mode that keeps score by how many gas cans you can recover.
Survival is a co-operative mode that tests to see how long you can hold out in one location.
Mutations are a play on the other modes with different rule sets based on the individual Mutations.
A good way to learn the different modes is to play with friends or helpful group. Join us this Saturday in the
Official Left 4 Dead 2 Steam Group Chat
to hookup with like minded players and give the different modes a try.
Left 4 Dead is more than just the game. Countless community made movies both live action and animated have been made to celebrate the game. Make sure to visit the
Left 4 Dead 2 Game Hub
and check some out.

October 25, 2012 - L4D Team

Left 4 Dead 2 is now free to play this entire weekend. If you are new to the Left 4 Dead world, we have a list of tips below. If you have been around for a bit, don't forget we have the Good Guy Nick achievement for you to earn starting today.
Additionally, to help find players and start games or just talk about Left 4 Dead 2, join us in the
Official Game Group
chat
. Devs will be hanging out in chat and in games from 10am to 6pm PST this Saturday.
If you are brand new to the game, here are some tips for you:
#1 – Play Campaign First – there are many different game modes available, but all rest rely on the skills you will learn in Campaign Mode.
#2 – Talk. Hook-up your microphone. Don't worry, you don't need to talk non-stop but having the option to call out for help when you really need it is invaluable.
#3 – Stay Together. Left 4 Dead is all about playing with a group. You need to stay with your group or you will die. Some of the special creatures can incapacitate you and the only way you can be saved is by your teammates.
#4 – Make Friends. If you meet players you work well with – add them to your Steam friends to play with them again. To date we have four marriages (we know of) and countless friendships created by people who met playing Left 4 Dead.
#5 – Join the Community. Participate in the discussion, view clips, see screenshots, and read news on our Steam Community hub. Check back on the blog as we will be updating every day this weekend. The community has even provided some valuable feedback and tips for new players in two forum posts available
here
and
here
. Don't be scared to ask questions in the forums or in the game. You can't survive the zombie apocalypse alone.
The Dev accounts playing this Saturday.
L4D2_DEV_1
L4D2_DEV_2
L4D2_DEV_3
L4D2_DEV_4
L4D2_DEV_5
L4D2_DEV_6
If you are running AVG anti-virus software and are getting a warning about the client.dll, make sure to get the latest signature file from AVG as this notice is a false positive.

October 24, 2012 - L4D Team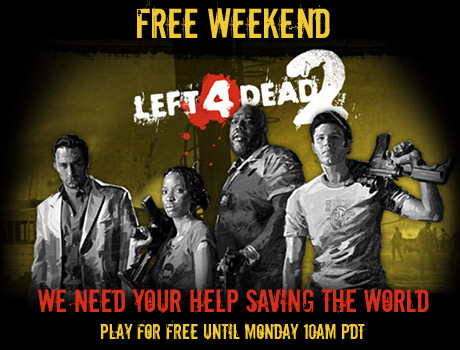 To celebrate Halloween, we are unleashing L4D2 on the world. Starting this Thursday, the entire game will be free to play for the whole weekend. New players can begin pre-loading now. For long time players, it is time to welcome your new found friends and help them survive the zombie apocalypse.
For current players, we created a new achievement. Good Guy Nick - – "Plays games with free weekend players and helps them survive a campaign." Who is a free weekend player? You're going to have to talk to each other to find out or you could always let your friends know Left 4 Dead 2 is going to be free this weekend and have them join you.
Spread the word!
It's the zombie apocalypse, bring friends.
To preload or install the game, you can
click this link
.

October 19, 2012 - L4D Team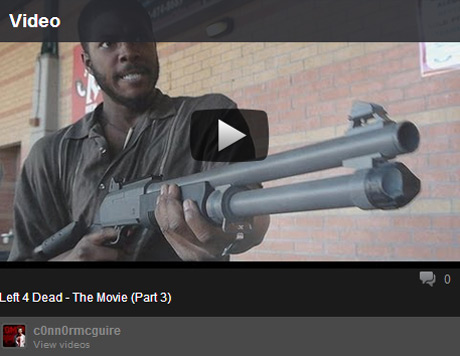 The Left 4 Dead community has created a wealth of movies. They range from a simple collection of Nick's profanity, to animated shorts, to full feature films.
Previously we would have to hunt around on Youtube to find all the movies but now with the new
Steam Game Hubs
, we can find all the movies in one place. To help us have all the movies in one place – if you created a movie for the L4D world - add it to the
L4D2 Game Hub
(We don't have a way to attach the movies to a franchise so we are using L4D2 which incorporates both games). To do that, click on the "Videos" link on your profile page and associate your Youtube account with your Steam Id and then select the L4D themed movies from your channel and attach them to the L4D2 channel.
Everyone can let us know about missing movies
in this thread
. Plus visit the
video tab
in the Game Hub to rate and discuss the videos.
With so many movies, we are thinking we should have a movie night of sorts closer to Halloween. Get together, talk about the movies, talk with the creators, discuss all things zombies, and end the night with some good old fashioned zombie killing…

October 17, 2012 - L4D Team
The Left 4 Dead 2 Workshop is getting close but before we unleash it on everyone, we first need to do some testing with outside contributors in a closed beta. This way we can make sure the Workshop works for add-on authors and they can see how best to interact with the Workshop.
Most content packages will simply work but in a few cases the user experience can be improved by the content package author.
An example change we have seen is the need to break apart model packs to avoid conflicts. If your Survivor model pack has all 4 characters it will conflict with other packs and individual models. For example, this would mean if you download the Minecraft character pack but then want to include Vacation Zoey – there would be a conflict over which version of Zoey should be shown.
This conflict exists now as well, but with the Workshop content creators can include the four individual models as a collection so people can choose to download or activate all four or each individually. We have also added conflict reporting to the interface so people are aware of any conflicts with the various addons they are subscribed to.
We will start the process for adding people to the beta next week.
This week we are looking to feature a new community campaign. If you haven't already, let us know what campaign should be featured by posting in
this thread
.
Today we have an update preparing for the workshop and fixing various bugs. You can read the
full release notes here
.
Bonus zombies today! Are you getting too tired to chase zombies by foot? Want to drive over them instead? Zombie Driver HD is being released today and has a little L4D Easter egg… the L4D Crash Course Rescue Van!
Check it out here
.