June 15, 2012 - L4D Team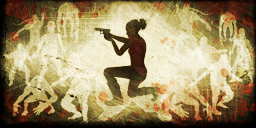 Nightmare
You'll never see them coming
This Survival Mutation was inspired by Karma Jockey. There are commons, plenty of beefed up Specials, no glows, and lots and lots of fog. If you like to be scared by things that jump out at you from the night, this one is for you.
What do Zombies Think?
While cleaning/moving our offices around (all our desks at Valve are on wheels so we can have desk races), we discovered this old, long ago used Zombie decision making tree. It was created before our session with Mike Patton to record the common zombie sounds. While it is near indecipherable gibberish thanks to bad penmanship, it shows not at an AI level how a zombie behaves but all the speech opportunities and transitions.
Our favorite is the top. Lay Down? Nope. Want to vomit? Sure.