March 22, 2011 - L4D Team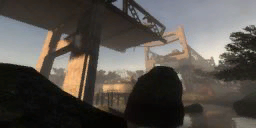 Today we are releasing the beta version of Cold Stream. Since we announced it, Matthew has been hard at work on the map and the initial release looks a little more polished than you may have expected.
The reason for that is the difference between how we work on a campaign compared to modders. When we work on a campaign, we normally work in a rougher state without textures for a long period. Level design artists come in later and give the game its finished look with textures.
Modders often texture early as they have to create the structures based on the available artwork. They don't have a team of artists coming in after them. So don't let the level of texturing fool you. The campaign is still in flux.
We have activated the in-game bug reporter for L4D2. You can currently submit bugs on Valve maps including Cold Stream. This system will eventually be extended to work with community campaigns.
So how can you help and give feedback on Cold Stream?
If you see a bug report it. There are sure to be nav-mesh bugs, navigational issues, hit box problems, missing zombie ladders, art problems, etc. Remember it's a beta.
For suggestions and feedback, first play the campaign and then post in the
Cold Stream forum
. The finale is one place in particular that we think is going to change pretty massively but please post all your feedback.
If you want to follow the development on Cold Stream, make sure to subscribe to our
Twitter account
.
Reminders:
The beta is for PC/Mac only. The 360 version will be included in the full DLC.
Cold Stream is part of an upcoming DLC for L4D2. No release date or pricing has been announced.
Cold Stream does not replace featured campaigns, they will resume next month.
Campaign Release Notes:
If you have a problem with a spawn room, vote to restart that chapter.
Everyone needs to be by the radio headset to start the finale map.
There are bugs, this is a work in progress.
Have fun.