October 22, 2010 - L4D Team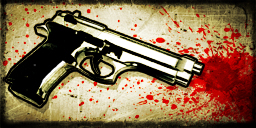 Lone Gunman, Did you Win, Do you rock?
Lone Gunman
You and your Magnum against the deadly horde and Boomers.
So you have your Magnum pistol and… well you do have your Magnum pistol. You better be counting bullets because four swipes by a common and you are dead. Getting boomed? Forget about it.
Did you win?
Last week we asked - Do you consider that you won the Campaign when you sacrifice yourself to restart the generator or did you just sacrifice yourself so your team won? Is it individual or team glory?
68% of you consider it a team victory and 32% of you believe you lost. For the 32% that either means you never go yourself or you really are a team player. This is one of those questions where we assumed the answer would have been closer to 95% of the people choosing you won. So if you have time, explain your votes in the forums or on our Facebook pages.
Do you rock?
With two Midnight Riders songs on Rock Band, have you ever played any of the Midnight Rider songs?
Next week: Bleed Out Versus