October 14, 2010 - L4D Team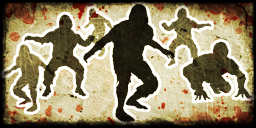 Hunting Party, Comics Going Mobile, Did you Win?
Hunting Party
Nothing but Hunters on the prowl.
In this Coop Mutation we pit you against non-stop hunters. No booms, no spit, no tongues, no charges, no being ridden… Great practice on dead stopping a hunter pounce.
The Sacrifice comic has gone mobile.
The Sacrifice is now available on the iPhone and iPad.
How do you get it?
Go to the App store on your iphone/ipad.
Download the Comixology app (be sure to get the one that says "Comics" not "Pull List")
Use the search engine to find Left 4 Dead.
Download for Free! When it is finished, go to bottom of the U.I. and you will find it in "my comics".
Thanks to everyone at Comixology for getting this up.
We also added a zip file on the
comic's extra page
that contains all the panels with the words and SFX removed. This way you can create your own story or translate The Sacrifice to a language other than English or just make Zoey say all those things you've been hoping she would.
Did you win?
You get to the end of the Sacrifice. You and three friends are on the bridge and someone needs to jump down. You offer to do it yourself, so you jump down, restart the generator and save the team.
Do you consider that you won the Campaign or did you just sacrifice yourself so your team won?
Next week – Lone Gunman