September 27, 2010 - L4D Team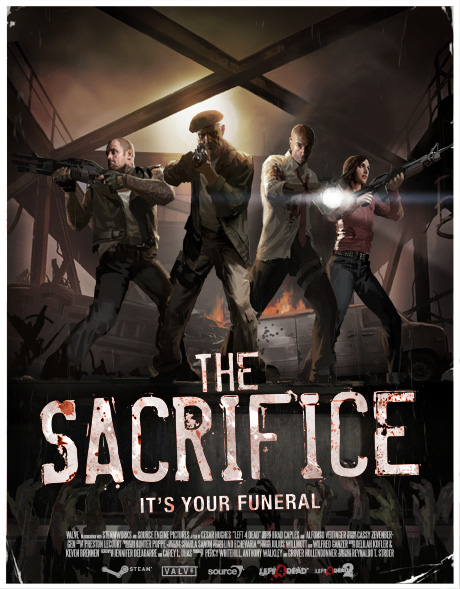 "The Sacrifice" is the prequel to "The Passing," and takes place from the Left 4 Dead Survivors' perspective as they make their way South. You may read the comic to find out the official version of events or this October 5th you may play the game to choose your own ending.
In "The Sacrifice" for Left 4 Dead, gamers receive the complete Sacrifice campaign with maps playable in Campaign, Versus, and Survival. There are 5 new achievements, a new style finale and plenty of places for devastating Hunter pounces.
For Left 4 Dead 2, gamers receive "The Sacrifice" campaign and L4D1's "No Mercy" both playable with the L4D1 Survivors. This version also offers 5 new achievements. In the L4D2 version of "The Sacrifice" each campaign is playable in Campaign, Versus, Survival, and Scavenge modes, and both "The Sacrifice" and L4D2 version of No Mercy feature the Left 4 Dead 2 Special Infected, items, and weapons. Yes, Zoey with a chainsaw!
"The Sacrifice" will be available as two separate packages on Xbox Live for 560 Microsoft Points each and free to all PC gamers.
Visit The Sacrifice website.