April 30, 2010 - L4D Team

This week we introduce a new mutation, reveal poll results, put the game in your hands, have a Boomer sighting, and more!
New Mutation
Bleed Out
Your health is a ticking away!
With constant mobs chasing you, there's no time for standing around. You have no permanent health, only temporary health that is continuously ticking away. You won't find any health packs to restore your health, only pills and adrenaline. This mutation is for Campaign mode.
Remember, each week a new mutation will be coming out, so you need to check back every week.
Poll Results
Last week's in-game poll asking who your favorite L4D2 character was resulted in an interesting stat. 360 users were clearly Ellis fans with him winning by a wide margin with 43% of the vote. PC users were split with Nick and Ellis coming in a virtual tie with 33%. Reading the forums, Rochelle surged a bit in popularity after people watched her in "The Passing" teaser. Our internal poll tells us we should make more teasers.
This Week's Poll
While last week's poll was interesting, this week's in-game poll actually changes the game. The question? Should we make Realism Versus a permanent game mode? This is by far the most important vote you will cast this year. For 360 owners, you must own "The Passing" to vote in this poll.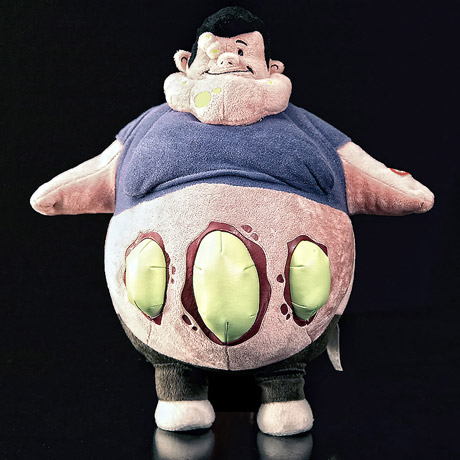 Boomer!
Want to scare and terrify your friends and family? Then you should look elsewhere. But if you want to hear them say "Ahhhh cute"; over a puke filled, boiled covered creature that speaks when you pull its chord — then we have the plushy for you. The "talking" Boomer plushy is now available at the
Valve Store
.
Join us in a Game!
We will be playing the Bleed Out Mutation all weekend using our super secret Valve developer accounts. While our friend lists are already filled to the brim, if you want to play with a Left 4 Dead 2 Dev just play Bleed Out this weekend on the Xbox 360 or PC and look for these user names.
Xbox 360
L4D2 DEV 1, L4D2 DEV 2, L4D2 DEV 3, L4D2 DEV 4, L4D2 DEV 5
PC
L4D2_DEV_1
,
L4D2_DEV_2
,
L4D2_DEV_3
,
L4D2_DEV_4
,
L4D2_DEV_5
You can verify these are valid Steam Names by checking that the name is in the Valve Group.
As you may have noticed, we didn't update the blog Thursday night. We decided to release the new blog update to coincide with the new Mutation release. When we tested it internally, it seemed odd to read about the new Mutation when you were unable to play it. So from here on out we will be releasing the new Mutation and blog post at the same time.
Check back next week for info on the next mutation; Follow the Liter.