March 23, 2010 - L4D Team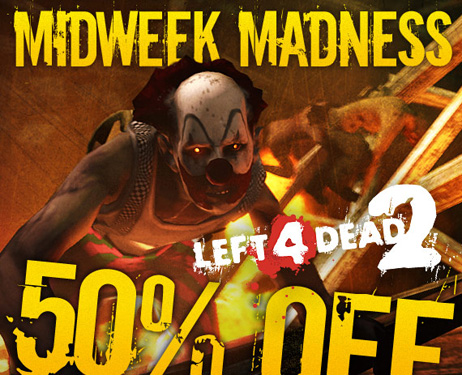 That's right, Internet blog readers! It's tax season here at Valve, and we need to CLEAR OUT our digital warehouses! What does that mean for you? How about the award-winning
Left 4 Dead 2
, now available for 50% off the original price? (March 23rd to March 25th)
But there's more! We are SLASHING the prices on ALL of Left 4 Dead 2, including
4 packs
!
Here's what you'll get!
4 Exciting New Survivors!
5 New Expansive Campaigns!
The Maddeningly Mad Mustachio!
10 Rocking New Melee Weapons!
3 New Super Special Infected!
5 Crazy New Uncommon Common!
10 Deadly New Weapons!
1 Gnarly New Gnome!
The Diabolical Director 2.0!
Explosive Fireworks!
Gross Boomer Bile!
110% More Midnight Riders!
Addictive New Achievements!
All new Game Mode; Scavenge!
All your old favorites and MORE!


But hold on, 'cause we ain't done! Coming out this Spring for Left 4 Dead 2 is the brand new DLC "The Passing", which contains:
A Wicked Witch Bride!
A Gargantuan M60!
A Slashing Golf Club!
And Introducing The Fallen Survivor!
Meet 3 Left 4 Dead 1 Survivors!
New Game Modes!


Was that a typo? Game Modes? Didn't we mean Game MODE? Did we mean to include that "S"?!?!?
YES WE DID!
This sale ends Thursday! so RUN, don't walk, to where you are already sitting reading this, and buy your copy of Left 4 Dead 2
TODAY!