October 19, 2012 - L4D Team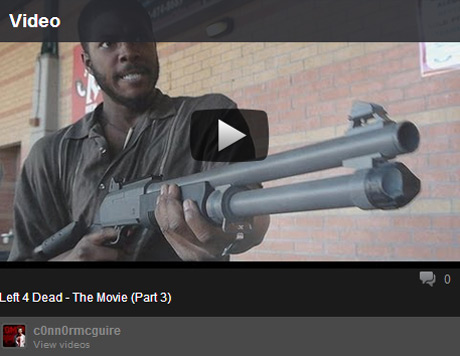 The Left 4 Dead community has created a wealth of movies. They range from a simple collection of Nick's profanity, to animated shorts, to full feature films.
Previously we would have to hunt around on Youtube to find all the movies but now with the new
Steam Game Hubs
, we can find all the movies in one place. To help us have all the movies in one place – if you created a movie for the L4D world - add it to the
L4D2 Game Hub
(We don't have a way to attach the movies to a franchise so we are using L4D2 which incorporates both games). To do that, click on the "Videos" link on your profile page and associate your Youtube account with your Steam Id and then select the L4D themed movies from your channel and attach them to the L4D2 channel.
Everyone can let us know about missing movies
in this thread
. Plus visit the
video tab
in the Game Hub to rate and discuss the videos.
With so many movies, we are thinking we should have a movie night of sorts closer to Halloween. Get together, talk about the movies, talk with the creators, discuss all things zombies, and end the night with some good old fashioned zombie killing…