December 10, 2011 - L4D Team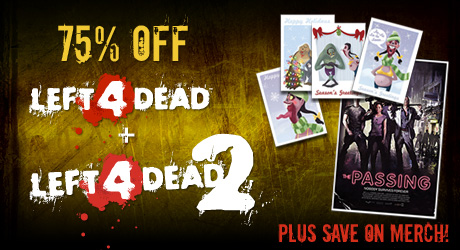 Looking around at holiday decorations and sales, we noticed an alarming lack of zombies.
We need to fix that.
To help you spread the zombie cheer through the holiday seasons, we have put the games on sale today for 75% off. This includes
Left 4 Dead
,
Left 4 Dead 2
, the bundles, the four packs – everything is 75% off today!
We also put all our L4D & L4D2 merchandise on sale at
the Valve store
. This includes the holiday cards at 75% discount! (
L4D1
–
L4D2
) We also have shirts, posters, mouse pads and more on sale.
One of the most requested gift items we see is the health kit back pack. We don't sell them but
Glitch Gaming Apparel
does. If you use the coupon code "I Love L4D2", you will get $4 off any order.
I know what some of you are thinking, you are NOT a last minute gift kind of person. You are a preparing for the Zombie Apocalypse kind of person. You prepare early. Your 2011 gifts were delivered last June. You are picking out your Halloween decorations this week. You're thinking about your 2012 gifts already. We respect that. For you we have an articulated action figure
boomer
. It was created by NECA and will go on sale early next spring for under $20 at major retailers. Just in time for your 2012 holiday gift buying.