November 5, 2010 - L4D Team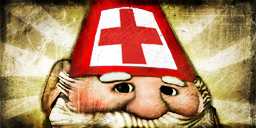 Healing Gnome, Halloween?, Pick the Mutation, Tweet Tweet
Healing Gnome
There is only one way to heal, holding the Gnome!
This Coop game is all about the Gnome and his magical healing properties. There is only one way to heal and that is by holding the Gnome. Better share him with your teammates!
Halloween?
If you haven't checked out the Halloween Costumes on our Facebook pages, what are you waiting for? Hunters, Zoeys, Bills, and even Rochelles are all there to TERRIFY YOU!!! For the poll, the Hunter handily won followed by the Tank. PC players then chose Bill and 360 players chose Ellis.
From a quick headcount in the real world, I think the order was Hunter, Ellis, Zoey, and then Bill. The Tank seemed to be too much for most people's costume making abilities.
Pick the Mutation.
Pick Next week's Mutation:
1)Bleedout Versus
2)Healing Gnome
3)Hunting Party
4)Lone Gunman
5)Taaannnkk!
Tweet Tweet
Want to know what the Left 4 Dead development team is working on or thinking about? Follow us on our brand new Twitter account at
twitter.com/l4ddev
. We promise we will never bore you with what we are eating or … okay, we did have some really good Thai food today. But look, we said that here and not on the twitter account, the twitter account will stay food free. We promise. Most likely.