December 25, 2013 - L4D Team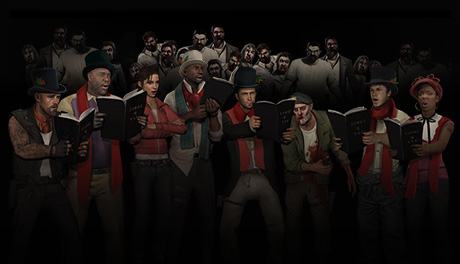 To celebrate the holidays in a special way this year, Left 4 Dead 2 will be free until 10AM PST 12/26. It will be free as in,
grab it now
, pay no money, and it is yours to keep forever – FOR FREE! To claim your L4D2 gift, all you need to do is install it. If you don't install, it goes back to its regular price and you miss out! The zombie apocalypse is more fun with friends so make sure to tell all your mates to install it as well. To help spread the holiday cheer, all current players can earn the achievement – Ghost of Christmas Present – Spread cheer by helping a free holiday player survive a campaign. Left 4 Dead 2 is filled with so much content where do you start? To avoid any grinches, we suggest jumping into campaign mode and get the basics down before moving into the competitive modes. You can also check out some
guides
, read
the forums
and ask questions, check out
some art
, read
the comic
, watch
some movies
, and most importantly have fun! Some other quick tips: Before the game: HOOK UP YOUR MICROPHONE! Communication is important in L4D2. Make sure you can keep in contact with your teammates. In Game: stay with your teammates. L4D2 is all about teamwork and leaving your dentist friend behind to go off on your own will only get you killed. It doesn't matter that you glow! Post Game: Make friends. If you are having fun with a group, send them friend invites or join a common group. And there is more! You can listen to the
Midnight Riders
. Download and vote on
Workshop
items. Dive into the
modding tools
,and create your own items for the workshop including the scripts for the
Extended Mutation System
. Welcome to Left 4 Dead and Happy Holidays!

October 29, 2013 - L4D Team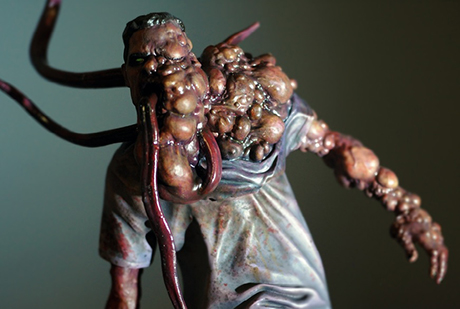 Do you have plans for Halloween? Sure, sure you could go outside, get candy, dress up, go to parties, or other dangerous activities which will most likely lead to your demise, but we think buying your first copy of L4D2 or gifting it to a friend is the best and safest way to celebrate the holiday.
To help, we have put
L4D2 on sale for an incredible 75% off
.
If one of your friends are the type who are dressing up as IT Crowd characters for Halloween, keep them safe by letting them know, this week the Linux version of L4D2 has moved out of Beta into full release. If that doesn't impress them, maybe some stats will. Did you know you are 57X less likely to drown while playing L4D2 than you are when bobbing for apples?
If you and all your friends already own L4D2 – first congratulations, you are hanging out with the right group of people - we have the perfect gift for the holiday, avoid sweets that will just rot their teeth, instead get them this
amazing Smoker Statue
. It goes on pre-sale today.

August 28, 2013 - L4D Team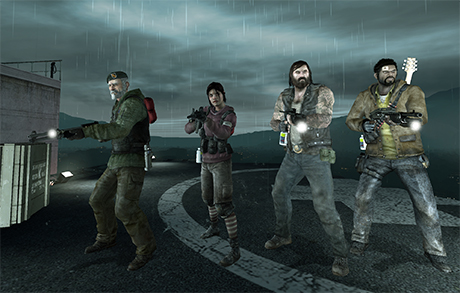 Building on the work from our last update, we are now releasing the entire set of "older" Left 4 Dead 1 models.
It was an interesting walk back through our content tree to find all the various pieces and versions. Depending on your definition of the old models, some of these may vary in some slight detail as we work in an iterative process and never internally defined a version of these models. They have always just been
Zoey
,
Louis
,
Bill
, and
Francis
to us.
We want to give special thanks to
Doktor Haus
for being more than willing to supply his server and his assistance in testing the mods, starter kits and
ZeqMacaw
for assisting with testing the mods and starter kits, troubleshooting the mods' compile coding. Thanks!
While we were in the history books we found some other interesting bits.
There are these versions of Zoey with different colors (
Blue
–
Yellow
). A really, really early
character concept sheet
from September 2005, and the internal release notes for the January 25, 2006 update. The highlights of the notes include:
* NEW: The Hospital Urban map has been split into four separate maps, with HL2-style map transitions. When all living Survivors enter a checkpoint and the door is closed, the next map in the sequence will load. All items, players, and infected will retain their state across map transitions. Checkpoint doors are impervious to damage until all of the Survivors leave the Checkpoint once (with a few exceptions). The "exit" door of a Checkpoint cannot be opened until after the map transition.
* NEW: When a Survivor's health reaches zero, he no longer immediately dies but instead falls to the ground "incapacitated". While incapacitated, the victim cannot move, slowly "bleeds out", and can take additional damage from the Infected, friendly fire, explosions, etc. If a friend can reach the incapacitated Survivor before he bleeds to death, the rescuer can +use him to "help him to his feet", leaving the injured player with a small amount of virtual (blue) health. A First Aid Kit can also be used to revive an incapaciated player, healing him in the process. Incapacitated players can press their attack button to call for help, and can wave their flashlight around to help others find them. Note that traumatic damage (explosions, steep falls) still kill Survivors outright.
- Baseball Bat has been removed
It took us some iteration, but we got that baseball bat back in 3 years later.

August 16, 2013 - L4D Team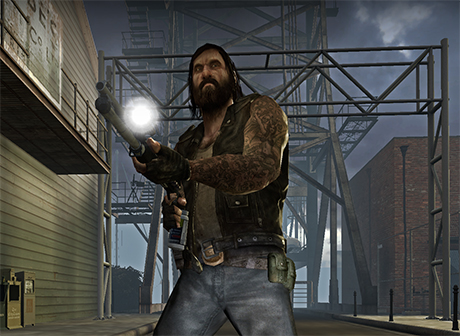 As the workshop continues to grow we have been working with some members of the modding community to learn where the tools can be improved and to help remove bottlenecks to creating new content.
Instead of endless emails, chat, or Skype sessions, we thought summer was a perfect time to fly up one of the most prolific modders out there -
Splinks
, or as we know him Zander.
Zander has been sitting in our office alongside the team for the last few months helping us. Today is the first update thanks to his work. Alongside the additions to the Authoring Tools that involve really technical stuff meant for fellow modders, we have added one fun bit in this update -
an older version of Francis
. We can't promise we can get all of the other older survivors working, but we are looking into resurrecting them for forthcoming updates.
This is just the first of a few Authoring Tool updates focused on helping modders and includes:
Starter Kits:
• These are Zip files which include all the compiling files (Reference/Animation DMXs, Reference/Animation SMDs, QCs, and the VTA Morphs) used to create each Item, Weapon, Special Infected, and Survivor. In addition to providing a useful reference, these kits allow modders to start with a fully functional asset and then replace pieces incrementally instead of starting from scratch.
• These packs will also have the proper directory layout used by the game itself, so users will not have to reconstruct and look up where the model they're replacing needs to go.
• Each Starter Kit will have A COMPILE.BAT file which will need to be edited to match the user's local L4D2 install directory.
Maya Files:
These are the skeleton rigs that are used for each Item, Weapon, Special Infected, and Survivor. These allow modders to replace a model by attaching a new custom mesh skinned to the rig. Also included are all the animation scenes for the Items, Weapons, and Special Infected.
Tutorials:
In order to compile model files from SMDs and DMX, people will need to setup the SOURCE SDK TOOLS.
This tutorial will show people how to set everything up and how to address issues and fix them.
http://steamcommunity.com/sharedfiles/filedetails/?id=163206031
An example of one of the weapon Starter Kits and Maya files packages.
http://steamcommunity.com/sharedfiles/filedetails/?id=159047840

July 16, 2013 - L4D Team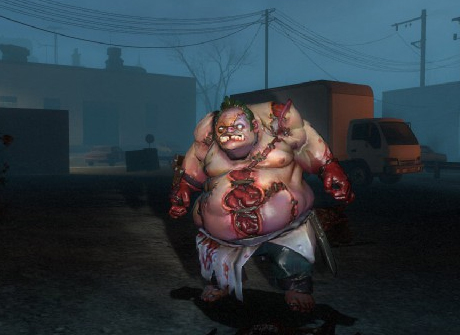 Ever see a screenshot and wonder - what in the heck Workshop item are they using?
Good news, we can tell you. Just visit the
image detail page of the screenshot
and along the right side you will see the active Workshop items and a link to each.
To grab your own items for some screen shots, visit the
L4D2 Workshop
. To see more images, visit the
screenshot page
on the community hub.
If you need a hint on the above image before you click, it's a Hero from a little game we just launched called
Dota 2
.