November 21, 2014 - L4D Team
An update has been released for Left 4 Dead 2. - Fixed low volume with some speaker configurations.
November 21, 2014 - L4D Team
An update has been released for Left 4 Dead 2. - Fixed an exploit that could shut down dedicated servers. - Fixed a slow memory leak on Linux dedicated servers. - Fixed a buffer overflow exploit in Squirrel. - Thank you to Gamers 4 Croydon.
August 27, 2014 - L4D Team

Today Source Filmmaker is releasing the Left 4 Dead Content Pack as its latest DLC! It contains the props, infected and all eight survivors from Left 4 Dead 2, including The Passing and The Sacrifice. They're also releasing music and voice, including all of the stems that were used to dynamically compose the distinctive music for Left 4 Dead. So now you can compose your own soundtrack out of those little snippets of oboe, banjo, saw and vocals to create something recognizably Left 4 Dead but also uniquely your own!
Both the SFM and L4D communities have been asking for this for a while, so we expect great things! Install Source Filmmaker, start the download from the Downloadable Content item in the File menu, and get animating!

May 20, 2014 - Valve
An update has been released for Left 4 Dead. - Fixed the game failing to launch on some versions of Mac OS.
December 25, 2013 - L4D Team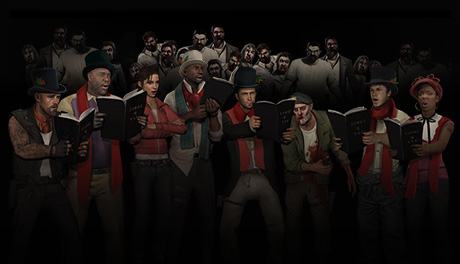 To celebrate the holidays in a special way this year, Left 4 Dead 2 will be free until 10AM PST 12/26. It will be free as in,
grab it now
, pay no money, and it is yours to keep forever – FOR FREE! To claim your L4D2 gift, all you need to do is install it. If you don't install, it goes back to its regular price and you miss out! The zombie apocalypse is more fun with friends so make sure to tell all your mates to install it as well. To help spread the holiday cheer, all current players can earn the achievement – Ghost of Christmas Present – Spread cheer by helping a free holiday player survive a campaign. Left 4 Dead 2 is filled with so much content where do you start? To avoid any grinches, we suggest jumping into campaign mode and get the basics down before moving into the competitive modes. You can also check out some
guides
, read
the forums
and ask questions, check out
some art
, read
the comic
, watch
some movies
, and most importantly have fun! Some other quick tips: Before the game: HOOK UP YOUR MICROPHONE! Communication is important in L4D2. Make sure you can keep in contact with your teammates. In Game: stay with your teammates. L4D2 is all about teamwork and leaving your dentist friend behind to go off on your own will only get you killed. It doesn't matter that you glow! Post Game: Make friends. If you are having fun with a group, send them friend invites or join a common group. And there is more! You can listen to the
Midnight Riders
. Download and vote on
Workshop
items. Dive into the
modding tools
,and create your own items for the workshop including the scripts for the
Extended Mutation System
. Welcome to Left 4 Dead and Happy Holidays!